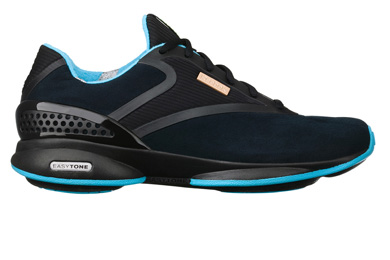 Ein Schuh ist schon lange nicht mehr bloß ein Schuh. Aber ich spreche hier nicht von Manolo Blahniks, die spätestens seit Sex and the City ein Statussymbol sind, sondern von Sportschuhen. Der moderne Sportschuh muss nämlich einiges mehr leisten, als den Fuß trocken und warm zu halten und zu stützen. In den letzten zwanzig Jahren haben die großen Hersteller viel in die Entwickelung des richtigen Schuhwerks für Basketball, Fußball und Co. investiert. Die neusten Modelle sind sozusagen Wunderwerke der Technik – und ihre Träger versprechen sich einiges davon. An vorderster Front der ausgewöhnlichen Turnschuhe mit dabei: Der Easy Tone von Reebok.
Reebok Easy Tone – mehr als ein Schuh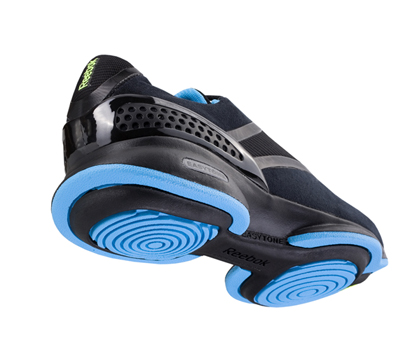 Beim Reebok Easy Tone ist es erst einmal der Hersteller, der einiges verspricht: Nämlich gesteigerte Fitness durchs bloße Tragen des Schuhs. Wer den schlichten Laufschuh trägt, verbrennt den Slogans zufolge drei Mal mehr Energie als jemand in gewöhnlichen Latschen. Hat Reebok den Schuh mit kiloschweren Gewichten behängt? Etwas ausgefeilter ist es schon… Die Schuhe sind an Ferse und Ballen mit sogenannten Balancekissen ausgestattet. Außerdem bewegt sich bei jedem Schritt Luft durch die Sohle. So wird eine "natürliche Instabilität" geschaffen, die bewirkt, dass die Muskeln in Waden und Oberschenkeln sich anpassen müssen und stärker arbeiten. Das Gehgefühl wird mit einem Spaziergang im Sand verglichen. Im Vergleich zu anderen Sportschuhen beanspruchen diese Wunderschuhe so nach Angaben des Herstellers Waden und Po 11% mehr. Außerdem verspricht Reebok, dass der Easy Tone so bequem ist, dass man damit gleich länger laufen möchte als mit den alten Turnschuhen. Allerdings scheint es doch eine so wackelige Angelegenheit zu sein, dass von Sportarten wie Tennis und Basketball mit dem Reebok Easy Tone an den Füßen abgeraten wird.
Reebok Easy Tone bei jedem Spaziergang
Der Reebok Easy Tone ist kein Sportschuh im eigentlichen Sinne. Er ist dazu gedacht, im Alltag, also bei Einkäufen und Spaziergängen etc., getragen zu werden und nebenbei ein paar Kalorien mehr zu verbrennen. Viele Käufer haben in Internetforen ihre Begeisterung ausgesprochen. Tatsächlich sei das Gehen in den Schuhen bequem, aber gleichzeitig anstrengender. Die Damenschuhe gibt es in Schwarz, Weiß und Silber. Ein Paar kostet ca. 100 Euro.